Webinar Update
Creating Your Own Opportunities, December 6: Join us for the next webinar that will focus on how women should approach every day as a team player while still creating opportunities for ourselves. Women often face pressures to play office roles that give them less visibility and prominence. This webinar will provide strategies to enable professionals to position themselves in the spotlight while still being seen as good team players. Speaker and registration link to be sent out shortly!

W.I.P Blog

For more immediate outreach with membership, W.I.P. has recently launched a Blog Series and all members are welcomed to participate. If you'd like to learn more about this new benefit and how to be a part of it, go to
•

our Linked In Group Forum to review past posts or
Mentoring Update

Mentor/Mentee Duo from SP+ Attend Ellevate Summit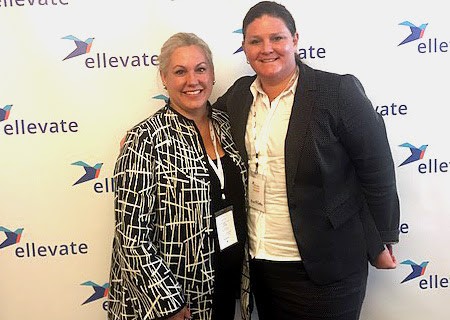 SP+, a leader in parking management, ground transportation and ancillary services, has its own Women's Advisory Forum (WAF), which is dedicated to fostering growth, leadership and success for women by providing resources and opportunities to contribute to the company's future growth. The WAF sponsored Nicole Hankins (VP/RMIII, Seattle/ Portland/ Western Canada) and Alison McCarthy (FM, Special Events in Cincinnati), mentor and mentee, respectively, to attend the Ellevate Summit in New York City.

Read More
National Parking Association 40 under 40 Program
•

Brittany Moore, City of Greenville
•

Cassius Jones, Smarking
•

Christina Murray, Premier Parking
•

Hallie Kolsen, Spothero
•

Michael Walsh, ParkWhiz
•

Owen Sanford, Premier Parking
•

Shelley Crispin, ParkWhiz
For the full list of parking professionals recognized in the Top 40 Under 40 class or to learn more about the 40 Under 40 program, visit WeAreParking.org/40nder40.

About NPA: The National Parking Association is the nation's leading parking trade group advancing the interests of the private and public sector in parking technology, sustainable mobility, certification, advocacy, research and education. Founded in 1951, NPA has more than 3,800 members and represents all facets of the parking industry. WeAreParking.org

Member Company Updates

WIP Members continue to shine and make their marks throughout the industry.
•

Congratulations to SpotHero's Matt Sullivan, formerly General Manger, Central region who has recently assumed a new role as Head of Supply for the entire sales organization.
Read More
•

Congratulations to SpotHero's Nicole Wylie who is assuming Matt Sullivan's previous role, newly promoted from her position as Director of Sales, Central region, where she was instrumental in driving SpotHero's expansion into a variety of channels (like hospitality, airport and municipality) across many exiting new markets.
Read More
•

Congratulations to ParkWhiz's Elizabeth Lindemulder who has been promoted to vice president of product at ParkWhiz. In her new role, she leads the design and execution of new features and products.
Read More
•

Congratulations to Passport's Kate Haffey, the new VP of people operations. Women rising in technology: Passport hires new VP of people operations, Kate Haffey
Other Member News
ACE Parking launches PARK FOR PINK campaign for the 4th consecutive year.
San Diego, CA, September 27th, 2017 – Ace Parking's PARK FOR PINK campaign kicks off its fourth consecutive year of raising awareness and generating funds to aid in the fight against cancer.

During the month of October, Ace Parking will raise donations as well as donate a portion of the company's proceeds to reach their goal of a $15,000 gift to Susan G. Komen® San Diego. To help raise awareness, Ace Parking will once again be temporarily changing many of its well-recognized parking lot signs to pink-colored PARK FOR PINK signage with a custom logo. Team members will wear pink wristbands celebrating Ace Parking's pledge. Additionally, the official Ace Parking website will have a custom design to support the cause.
Read More
Letter From Our Leaders
The Constant of Change!
Ruth Beaman, Executive Director
Colleen M. Niese, Associate Director
Laura Longsworth, Chairperson
I believe one of the key drivers behind why so many parking professionals stay in our industry for as long as they do is change. In talking to anyone who contemplates going into parking, I find myself invariably sharing that if you like having no two days alike, this is the industry for you.
Women In Parking is no different. Since the beginning, the organization has experienced and driven change both internally, in terms of growth, and externally in terms of changed perception when it comes to the value of gender diversity in the workplace. I believe we've reached a level where professionals from all spectrums not just understand our mission, but have jumped in with both feet to be a part of parking history.
We're here largely due to our members, sponsors and our leadership board. And in that spirit, I'm super pleased to share changes that will take place on December 31st with our board and executive committee.
Read More

Upcoming Events
View a complete list of 2017 events online
Employment Opportunities
Read More
Membership Updates
Join Today


The Lighter Side of Parking

​