Spotlight: Eco Lighting Solutions Supports Women
By: Madison Huemmer, IParq, Director, Sales & Marketing

I had the recent pleasure of meeting Eco Lighting Solutions President, Jeff Pinyot. Immediately upon speaking to him, it was evident that he and his company are passionate about supporting women. The main way they do so is by creating solutions with female users in mind. Mr. Pinyot explained, "Our daughters and wives will use our products" so, they better be good.

View the Complete Interview Here
The First Women In Parking Virtual Classroom was a Hit!
By: Kelsey Owens, Passport, Sales Associate Southeast
Women in Parking kicked off the first virtual classroom with Andi Campbell, VP of HR for LAZ Parking, exploring ways we can leverage what we know about the differences in how men and women communicate to be successful at work (and in life). Andi led participants through an honest discussion on how we can all shift our approach to be more successful in the business world.

This session was the first in a series that will continue the discussion about leveraging the differences in how men and women communicate. The next virtual classroom will be from the perspective of some male experts.

Join for an interactive panel discussion with executives from various companies in the parking industry. You'll even have an opportunity to ask your own questions! Leave this session with an understanding of how male executives think women in parking can influence results. Stay tuned for the announcement of speakers!

INFLUENCING RESULTS: LEARNING FROM INDUSTRY EXECUTIVES
September 7, 2016 @ 2:00 PM EST
Email
WIP
with any questions
WIP Virtual Classrooms are a great benefit to Women in Parking members. If you have suggestions for our virtual webinars, please feel free to contact the WIP Webinar Committee Chairperson: Kelsey Owens at
kelsey.owens@gopassport.com
.
Member Company Updates

WIP Members continue to shine and make their marks throughout the industry.
Kathleen Laney, President of Laney Solutions, an executive search firm specializing in parking industry placements is now a Contributing Writer to Parking Today and has also been appointed as Senior Advisor of Parking Dude, a parking application startup serving the Hoboken, NJ community.

Congratulations to Susan McDermott who is stepping in to assume leadership board responsibilities for WIP in the exit of a previous leadership board member. Susan is the Market Manager for TransCore, a leader in radio frequency identification applications specializing in transportation solutions, including parking access and control systems.

Read More
Passport recently closed a Series B round of funding. This brings Passport's total capital raised to $17 million. It's a very exciting milestone for the company - with this $8 million Series B, they plan to continue hiring internally, developing their enterprise platform, and expanding domestically as well as in select international markets. Passport was featured in a TechCrunch article (link below): Passport raises $8 million to help cities offer pay-by-mobile parking, transit
Scheidt & Bachmann Sponsors Women In Parking Networking Event at Intertraffic to Begin Discussions to Form European Professional Chapter - International PARCS provider Scheidt & Bachmann GmbH partnered with Women In Parking to host an introductory networking event on April 7, 2016 during the Intertraffic Amsterdam Conference and Expo. The event served to encourage discussions to establish a formal European Chapter of Women In Parking for the collective continent. Over 70 professionals attended the evening occasion which was held at the Scheidt & Bachmann conference booth.

Read More

Passport's marketing team recently received a 2016 IPI Parking Matters award for our ParkBoston Street Arcade Event: "It's Game Over for Quarters". We were recognized for this at the 2016 IPI conference in Nashville. Our ParkBoston street arcade event celebrated the success of the ParkBoston app, bringing residents and visitors out to the streets of Boston to play arcade games using the quarters they no longer needed for the meter.

City of Aurora Marries MIFARE and Pay-by-Plate for Metra Commuters
One-Step Contactless Card Transactions Key to Catching the Train on Time! - Cale America Inc., a leading supplier of payment technology for parking and transportation, has announced its first US installation of MIFARE contactless card technology paired with license plate based payments in the City of Aurora, IL.

Read More

Passport recently hired Kim Kufel as our Content Marketing Specialist. She is our newest WIP member.

ECO successfully launched their new ECO FlexTech with Falcon Vision™ at the IPI show in Nashville. This industry's first entry in the new category of Concierge Lighting™ incorporates the highest efficiency and rated LED parking fixture with an integral parking guidance system nested in the fixture. The Falcon Vision uses the latest technology in an advanced learning hi definition camera based system.

Read More
Member to Member Deal
By: Diego Torres-Palma, Smarking, Director of Growth
This is a new section beginning with this newsletter which will focus on WIP members doing business with one another. This quarter's feature is of WIP Members Smarking and Brookfield teaming up to help each other.

Parking Data for Property Owners – What's Not to Like!?

Smarking Inc., the leading data analytics provider for parking professionals, announced a working relationship with Brookfield Properties, one of North America's largest owners of commercial real estate assets.

The core of the Smarking Management System is a real time dashboard that enables property managers and parking professionals to monitor and optimize their parking operations with data. Smarking uses existing parking data to calculate: real time occupancy, predicted occupancy, real time revenue, predicted revenue and a host of analytical reports surrounding parking durations, historical occupancy, and historical revenues.

Read More

Listen Your Way to Success
A book review by Astrid Ambroziak, ParkNews.biz, Editor, of "Just Listen" by Mark Goulston


"Don't ask the world to change....you change first." – Anthony De Mello

Life is a constant and never ending learning process. As the legendary wizard of Westwood, John Wooden said, "when I am done learning, I am done." We live in a world where communication is truly one of the most important skills we must continue to learn and relearn. Regardless our intelligence level and education, very few of us know how to communicate. Yes, we talk to each other. Or more often, we talk at each other. We are so busy striving to be interesting, we forget how to be interested. The paradox is that only when we are interested we can be interesting. Interested in others and interested in ourselves. From a point of reflection and curiosity. Without being interested, we cannot learn and hence we cannot be fully alive.

Read More
Letter From Our Leaders
What A Great Time to Be a Part of W.I.P.!
By: Colleen M. Niese, Associate Director, Principal, The Marlyn Group, LLC
While Women In Parking has earned and appreciated more than a few successes over the past few years, this spring has brought about memorable milestones that we're driven by inspirational leaders to the benefit of all members and the industry as a whole.

I am super pleased to share that Propark has joined ABM as a Titanium sponsor for the association. Both organizations join W.I.P. at this level because of their respective leaders' commitment and belief in driving gender diversity in the workplace. Our heartfelt thanks and appreciation to both companies for their support and recognition of the importance of the mission to Women In Parking – to be the premier association dedicated to promoting the advancement and achievement of professional women by providing networking, leadership, and career outreach opportunities and support to its members.

Read More

Upcoming Events
Virtual Classroom
Influencing Results: Learning from Industry Executives
September 7, 2016 @ 2:00 PM EST
Email WIP with any questions

2016 Women in Parking 3rd Annual Conference
"Creating Connections and Builidng Success"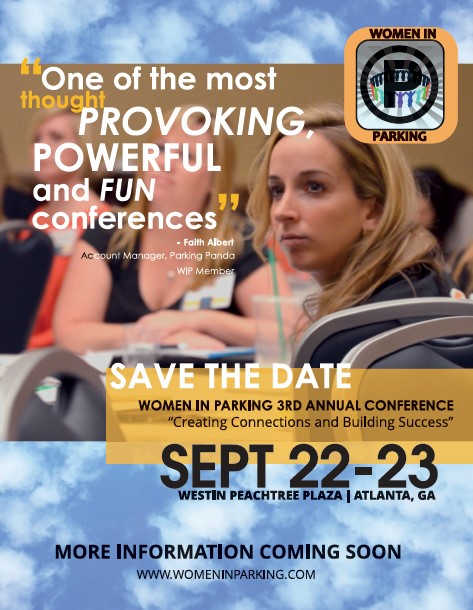 September 22-23, 2016
Westin Peachtree Plaza
Atlanta, GA

Look for more information soon.


View a complete list of 2016 events online

Employment Opportunities
Read More

Membership Updates
Join Today

The Lighter Side of Parking
​